By Aoun Sahi & Ejaz Khan
It was around 4.30pm on Tuesday when the first shock sent the terrified residents of Balochistan out of their homes and workplaces. That was more or less routine for people living in Balochistan. But, when the jolt shook the ground thunderously the second time they knew it meant disaster.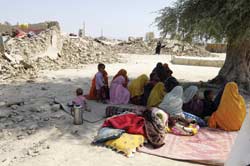 Faizullah Baloch, a truck driver, was resting in his mud house in Tarteej village of Awaran when the earthquake struck. The first jolt levelled his house to ground, burying five members of his family. "I am not the only one in Awaran grieving the loss of family members; most around me are in the same situation," he says with tears in his eyes.
In a conversation with TNS on phone, a woman based in Awaran recalls, "My daughter-in-law was busy cooking food in the backyard of the house while I was praying inside the room. Suddenly, the house started shaking and in no time it collapsed. I could hear my grandchildren scream… Then I fell unconscious".
Most of her family members escaped death, except a sister.
Related Posts
« Not England's cup of tea Dark burden of the death-gamble »