Review
It's sad that a book comprising some valuable work on Faiz has remained in oblivion for the last two years
By Arif Waqar
During my recent visit to Canada I had a chance encounter with this book — a collection of articles on the life and times of Faiz Ahmed Faiz.
The first thing that grabbed my attention was the high quality paper, superb printing and an aesthetically designed title page. My first impression was that the book was printed in Canada. But when I thumbed through it, I was amazed to learn it was published in Karachi two years ago, during the Faiz centenary year.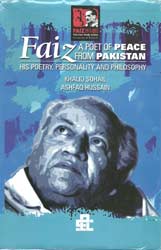 It starts with a conversation between the two compilers of the book, Dr Khalid Sohail and Ashfaq Hussain. Using the well-tested classical method of Socratic dialogue, various questions are asked about the poetry, personality and philosophy of Faiz, following a lively discussion which covers a vast array of literary subjects — right from the poetry of Allama Iqbal down to the short stories of Saadat Hasan Manto.
Dr Khalid Sohail has contributed four articles to the book: 'When Faiz was Imprisoned', 'Faiz, Women and Jealousy', 'Faiz and Fame'; although his most important contribution perhaps is 'Faiz in Search of Freedom'. In this fourth article, he quotes the famous Faiz speech in Moscow while receiving the Lenin Peace Prize.
"…Other than mentally deranged people and criminals, all of us believe that freedom and peace are essential for the progress and evolution of life. These characteristics in life help children and women to smile, crops to grow in fields, and writers and artists to express themselves freely. Freedom is necessary for human beings to live like human beings, and to be able to express their qualities of honesty, bravery, and love for justice…"
Pieces of Faiz's poems in English translation are a real treat in these articles. While a bilingual reader can doubly enjoy it with the original Urdu resonating in the background, a western reader will be enchanted by the sheer content of it. Who can deny, for example, the universal appeal of 'mujh se pehli si mohabbat meray mehboob na maang':
Do not ask me
For that past love
When I thought
You alone illuminated
This entire world
And because of you
The sorrows of life
Did not matter
I thought
Your beauty gave permanence
To the colours of spring
And your eyes were
The only stars in the universe
I thought
If I could only make you mine
Destiny would, forever be
In my hands.
Now I know
There are afflictions
Which have nothing to do with desire
Raptures
Which have nothing to do with love.
— Tr. Daud Kemal
Translating poetry is tricky. Some insist on defining poetry as a genre that cannot be translated into another language and that it can't even be re-phrased in the same language.
It is true that compared to prose-fiction, poetry is harder to translate, but it was only through the institution of translation that we were introduced to Greek, Latin, Arabic and Persian poetry.
Incidentally, the book under discussion, has two articles on this very subject. Naomi Lazard in his essay 'Translating Faiz' describes his own method of rendering Faiz into English:
"Faiz gave me the literal translation of a poem. I wrote it down just as he dictated it. Then my real work began. I asked him questions regarding the text. Why did he choose just that phrase, that image, that metaphor? What did it mean to him? What was crystal clear to an Urdu speaking reader meant nothing to an American. I had to know the meaning of every nuance in order to re-create the poem"
Another article on this topic is by Victor Kiernan. This scholarly essay originally appeared as an introduction to 'Poems by Faiz' — published in 1971. Victor Kiernan discusses in detail the origin of Urdu language and its relationship with Persian, Arabic and local Indian dialects:
"When the Mogul empire faded, and with it the old cultural links with Persia, it was chiefly the poetical part of the legacy of Persian that Urdu fell heir to… So much of the spirit and tone of Urdu poetry derives from Persian tradition that this ancestry must often be kept in mind, even when a poet like Faiz is alluding to quite contemporary matters…"
Readers of Faiz know very well that he also wrote excellent prose, both in Urdu and English, but few people know about his Punjabi poetry. A small section at the end of his compiled works 'Nuskha Hae Wafa' contains some Punjabi poems.
Allama Iqbal was once asked why he did not write poetry in his mother tongue, as his contemporary Tagore did. Allama's answer was that he spoke Punjabi at home, but his literary training was in Persian and Urdu, so he could produce poetry only in these languages. When Faiz was asked the same question, his answer was a bit more elaborate:
"I was overtaken by an awesome realisation despite my desire to write in Punjabi, that for one thing I had not mastered Punjabi literature, and for another, based on whatever I had heard, it was hoping against hope to write like Waris Shah."
Making an insightful observation on the relationship of language and life, Faiz says that folk poetry can never be accomplished in Urdu, for Urdu is the language of the polis, not of the village, be it the village in Punjab or around Lucknow — "Urdu is strictly an urban language, I may, if I endeavour, write poetry matching Ghalib's, but never ever the one matching Bulleh Shah."
Referring to these thoughts of Faiz, one of the contributors to the volume, Muhammad Fayyaz writes, "Significant and far-reaching as these observations are, it seems fair to say that the Punjabi poetry of Faiz successfully presents a synthesis of folk and urban concerns vocalised in an elegant manner."
In another article on the same topic, Professor Manzur Hussain seems reluctant to give Faiz any credit for his Punjabi poetry. He says that after the events of 1968, Punjabi had suddenly become fashionable amongst the Punjabi intellectuals, and Urdu poets like Ahmed Nadeem Qasmi and Faiz Ahmed Faiz also jumped on the bandwagon.
Khalid Hasan had a long association with Faiz while they were both in London. The collection includes three articles by Hasan, 'Faiz: A Personal Memoir', 'Faiz on his Boyhood and Youth', and 'Faiz: A Summing Up'.
The foreign contributors include Peter Manuel, Estelle Dryland, Ziyad Abdelfatteh, Mustefa Fersi, Alex La Guma, Rimma Kazakova and Anatoly Sofronov.
The compilers, Dr Khalid Sohail and Ashfaq Hussain, have taken great pains to collect these articles scattered in magazines and periodicals all over the world.
The book prefaced by Syed Jaffar Ahmed is certainly a valuable addition to Faiz literature but, sadly, even after two years of its publication, it's lying somewhere in the basement stores of Pakistan Study Centre, University of Karachi. Some copies may have come out for personal use, but it was never properly distributed or even introduced to the media.
Faiz: His Poetry,
Personality and Philosophy
Editors/Compilers: Dr Khalid Sohail and Ashfaq Hussain
Publisher: Pakistan Study Centre, University of Karachi
Pages: 496
Price: PKR500
Authors / Compilers
Dr Khalid Sohail
A poet, humanist and psychotherapist, he was born in Pakistan in 1952. He received his MBBS from Khyber Medical College and completed his FRCP in Canada in 1982. At present, he runs his own psychiatry clinic in Whitby, Canada. He is an author of more than 60 books including English and Urdu poetry collections, short stories and essays.
Ashfaq Hussain
A poet, critic and essayist, Hussain was born in Pakistan in 1951. He obtained his Master's degree in Urdu Literature in 1974, and migrated to Canada in 1980. His MA dissertation was on the poetry of Faiz, which was later published as a book. He has written, compiled and edited several books on Faiz since. He is also associated with the Asian Television Network, Canada.
Related Posts